Attention Veterans Memorial High School students!  We present to you our decorative halls. All three hallways had their own unique themes: the first floor was Western, the second floor was horror, and the third floor was sci-fi. The second-floor art hallway had the spookiest theme out of all three.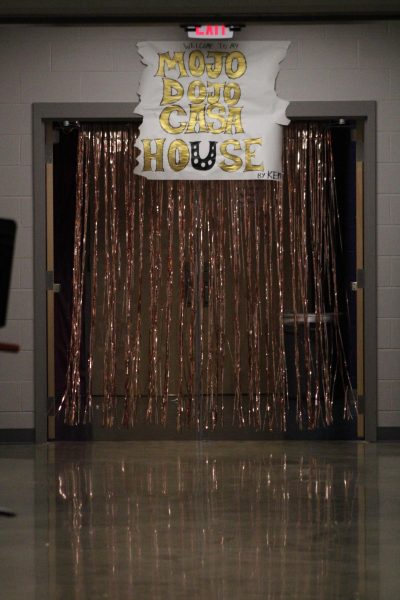 "We had complete creative freedom and I looked up haunted mansion-inspired art pieces and one from the 1920s stood out to me," Senior Kate Mitchell said.
Sophomore Aja Vasquez also stated, "The one that struck my mind was the portrait paintings definitely. I designed a skeleton with a sword through it and a woman sitting on the throne. I gave all my freedom to it."

 They had several decapitated mannequin heads along the windows that were painted with scary clown faces, hair, blood and fearful faces being some of the few. This hall also had candles tied with fishing lines to create the illusion that the candles were floating.  UV light brought out some glow-in-the-dark paintings along the walls. Overall, the hallway was very frightening. Cheer helped with art as well. They had their side with the hallway lights covered with red tissue paper and a cardboard cut-out with classic characters such as Pennywise, Michael Myers, etc.
Story continues below advertisement
The theater crew made a realistic version of the famous 'Mojo Dojo Casa House' termed by the Ken character for the Barbie movie. They covered the walls with pink construction paper. Of course, Ken's name was plastered everywhere and we also can not forget the horses.