After a devastating loss in the postseason during the 2022-23 campaign, the Veterans Memorial Patriots are back for redemption. The Patriots won their season opener at Rutledge Stadium 42-19, against the Harlandale Indians on Thursday, Aug. 24.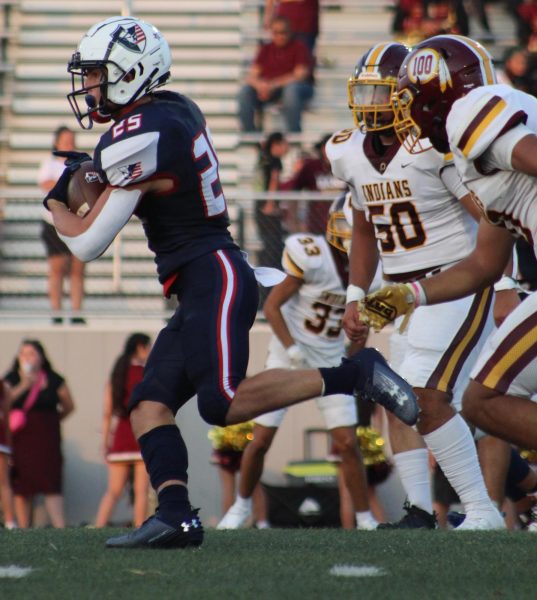 The Patriots were down 6 points early in the first quarter until Christopher Bassett scored the first touchdown of the season running the ball in for 6 along with Rafael Nunez's extra point going in the Patriots took the lead in the 1st quarter, the Patriots ended up scoring another rushing touchdown with an extra point during the first making the score 14-6 by the end of the quarter. During the 2nd quarter the Patriots were able to score another 14 points and keep Harlande from scoring all quarter, by the end of the quarter the score was 28-6. Going into the 2nd half the Patriots kept their momentum, scoring another 14 points in the 3rd and holding Harlande to just one touchdown making the score 42-12. 
The Patriots closed the game out with a victory and bringing their record to 1-0! Nathaniel Ortega had a pair of interceptions that helped the Patriots keep their momentum throughout the game putting the offense in good positions. Bassett had 92 yards in the rushing game along with a touchdown, Clinton Dixon had 2 touchdowns,  a passing and rushing touchdown. Alex Lopez led the Patriots in passing touchdowns throwing a pair, while Jakwon Downing led the Patriots in receiving gathering 111 yards according to max preps, Downing also had 4 touchdowns against Harlandale 3 receiving and 1 rushing. 
Story continues below advertisement
Many players on defense came out including Christopher Nadeau, Aaron Hoyle and Jashon Perkins. Everyone on The Patriots contributed to the win on Thursday and the season is looking bright for these fellows! The Patriots look forward to continuing their momentum into week 2 as they face Taft next Saturday in their first away game of the season!