This week, Veterans Memorial students participated in the 2023 Spirit Week! Monday was "The Magic of Disney," where students would wear their favorite Disney shirt or shirt with their favorite Disney character. Many students dressed up as Disney characters. Groups of friends were dressed as forms of Mickey Mouse and Minnie Mouse, wearing the characters' ears and the black and red colors. The hallways of the school were transformed into a vibrant and enchanting world. Even the teachers joined in on the fun! Throughout the day, the school was filled with the spirit of Disney.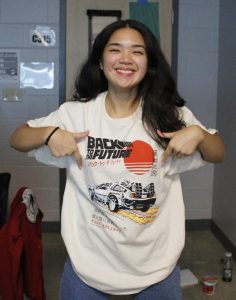 Tuesday was the trending Barbie V.S. Oppenheimer. There were many combinations of classic old school suits, being Oppenheimer, and variations of pink, being Barbie. Different types of classic attire were worn, along with accessories such as older hats and belts. But then there was a shade of glamor to the school with students wearing their Barbie-inspired outfits. To represent the iconic Barbie doll, the school was filled with stylish hairstyles, vibrant, trendy accessories, and waves of pink.
Wednesday, Veterans Memorial students dressed up as their favorite duo movie characters for "Movie Duos Day." There were dynamic duos from all genres, from classic films to modern blockbusters. There were Duos like SpongeBob and Patrick, Sulli and Boo from Monster Inc, Blue Brothers, etc. Many iconic duos were worn, showing the personalities of the students and teachers at the school.
On came rolling in "Back To The Future" day, where the school dressed up as their favorite 80's attire or as their future self! Big hair, neon colors, leg warmers, letterman jackets and oversized sunglasses filled the hallways for those who chose to do the 80's theme. Sophomore Jia Urquico, wearing a "Back To The Future" movie shirt, says, "I love the movie so much, and this shirt perfectly fits the 80's theme while still looking modern." Others who chose their future self wore more job or career-type outfits expressing their dreams and passions in life.
Story continues below advertisement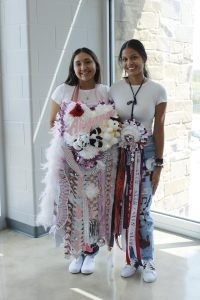 Spirit Week was wrapped up with "Patriot Day"! Everyone wore blue, red, and white Patriot gear to support our football team. There were also impressive, colorful mums and garters worn all over the school, showing how excited everyone was for Homecoming and the Homecoming game! Senior Aryana Mendoza's unique mum was filled with many meaningful traits. One of them being a stuffed animal cow. "I've always loved cows, and they've always been my favorite animal, so I thought, why not put one on my mum," Mendoza states. Everyone was excited and fulfilled with the Patriot pride this week!