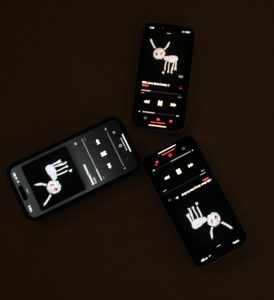 Drake's eighth studio album, "For All The Dogs," was released on Oct. 6
     Drake's new eighth studio album, "For All The Dogs," was released last Friday, Oct. 6, at precisely 6:00 a.m. after weeks of delay. This track includes twenty-three songs, including features from J. Cole, 21 Savage, SZA, PARTYNEXTDOOR, Bad Bunny, Lil Yachty, Yeat, Chief Keef, Sexyy Red, and Teezo Touchdown. It includes two interludes, "Screw The World" and "BBL Love."
     Before going on tour, Drake released a poetry book called Titles Ruin Everything. To put everyone on notice, in the book and several different newspapers was a QR leading to the announcement: "I made an album to go with the book. They say they miss the old Drake girl; don't tempt me. FOR ALL THE DOGS."
Story continues below advertisement
     With many mixed emotions, Veterans Memorial students were all tuned in to the 5-time Grammy winner's new album. Senior Izaiah Garza, a Drake fan, said the album was good but needs more listens to see if he'll like it.
"The album is good. I rate it an 8.6 out of 10; I still need more time to listen to it more and more because there is a Drake effect, of course, so I'm sure after more listening, I'll like it even more," Garza stated. "I would say Amen is my favorite album because it has an underrated artist, Teezo Touchdown. he is growing on me, and Teezo's feature on the song completes the song, making it perfect, in my opinion."
Although some students said it was good, others called it "mid" or bad. When asked about his opinion on the album, senior Jionte Jones, a non-Drake fan, said it was just mid. "It was pretty mid, compared to his other albums and songs; my favorite song off the album was the one with Yeat," said Jones.

Even though there were very mixed emotions about the album, most would say it was a unique and interesting listen. Drake, having not dropped a single studio album in over a year, students, fan or non-fan, were interested in tuning into the seven-time platinum album artist.